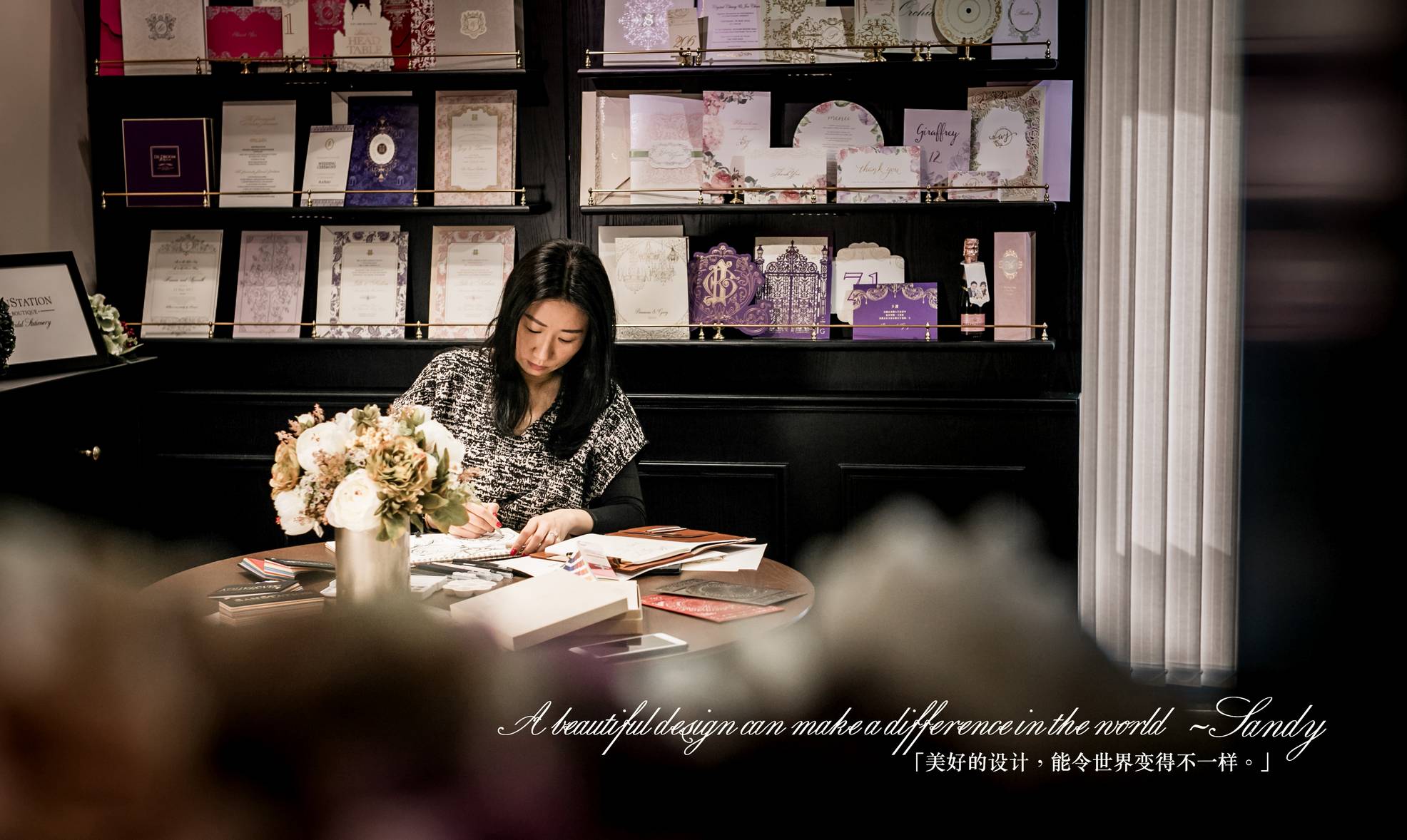 About Sandy
2000 University of Calgary– Bachelor of Fine Arts, with double major in photography and drawing
2001 Emily Carr University of Art & Design– Certificate of Graphic Design
2004 One of the founders of Limetea Design Studio
2015 Founder of SanStation
2017 Became a partnering brand of Maestros Couture in Foshan Lingnan Tiandi, China
A Committee Member of  Couture Wedding Club & Association (CWCA)
All About Wedding Awards "The Best Invitation Award 2015"
Renowned Hong Kong wedding invitations designer- creating personalized wedding invitations and stationery design services
Designed numerous invitations and stationery for distinguished families for weddings, birthday parties and 100 days birth celebration etc
The exclusive wedding invitation designer for The Peninsula Hong Kong, The Ritz-Carlton Hong Kong &  Island Shangri-la, Hong Kong
Sought by famous labels to design invitations and stationery for large-scale publicity events
Radio interviews: Star Internet Radio/Metro Finance
Magazine interviews: All About Wedding/Elle Wedding/The Standard Wedding Magazine/Apple Daily
Creativity Meets Passion
Blessed are those who do what they love and love what they do. SanStation founder and creative director Sandy Chan is among the fortunate few. She discovered her passion in art and drawing at an early age and has never strayed from the path since. When she was thirteen, she knew she was destined to realize her passion and landed in Oxford England to soak in a well of culture and arts. When she emigrated from Hong Kong to Canada with her family, Sandy's flame for art glowed brighter. Here Sandy graduated from the University of Calgary with a Bachelor of Fine Arts, with double major in photography and drawing. Sandy honed her craftsmanship further by studying graphic design at Emily Carr University of Art & Design, completing the two-year program in one year.

Sandy's "career" in art and design began with creating greeting cards and wedding invitations for her family and friends. The affair turned official in 2004, when she opened a Hong Kong-based business with another designer to provide bespoke wedding invitations and other stationery that fills the gap in the market. Her exposure to foreign art and cultures, on top of her natural talent in drawing, Sandy enjoys the vision and ability to fuse Western art elements into traditional Oriental designs. This acute artistic sense makes her a real artist, apart from other graphic designers.

Having accumulated over a decade of experience under her belt, Sandy opened her own boutique design house, SanStation, in 2015, and created a selection of high-quality designer collections characterized by her artistic flair. She also continued to offer premium bespoke design service for those brides-to-be who want one-of-a-kind stationery at their weddings. SanStation became a partnering brand of Maestros Couture in 2017. SanStation products are showcased at the design specialist's flagship store in Foshan Lingnan Tiandi, offering clients in the mainland tasteful and luxurious wedding stationery and accessories.

The numerous accolades received by SanStation, stands testament to the artistry and quality it has to offer. The brand also enjoys extensive media exposure in magazines, newspapers and radio channel. Furthermore SanStation is the exclusive wedding stationery designer at various of the most deluxe hotels in Hong Kong. Its designs and signature products can be found across weddings of celebrities, parties and banquets, and retailers in Asia.